This article is sponsored
content.
Interested in advertising with us?
Click here.
Since hemp's legalization through the 2018 Farm Bill, a host of CBD products have flooded the market for people and their dogs. And because people have successfully calmed down their own health issues, they now want the same things for their beloved pups. CBD brands have risen to the occasion and are producing dog-centered products that can help with various issues like anxiety, stress, arthritis, and sleep.
With all of the brands and products on the market, it can be just as overwhelming to find the best CBD treat for your dog as it is to find the best CBD oil, gummies, salve, or topical cream for yourself. In light of that, we've put together our guide to the best CBD dog treats and chews to help take some of the guesswork out of your search. We thoroughly researched some of the best, most reputable CBD brands so that we could help you find the best treat or chew for your four-legged friend.
Top 7 CBD Dog Treats in 2022
These top seven brands stood out above the rest for having some of the best CBD dog treats and chews in the industry. We spent a lot of time and effort selecting these brands through a painstaking process. We wanted our readers to have the best possible brand options so that they could choose the product they feel will work best for the overall health and wellbeing of their favorite pup.
FAB CBD — Best Overall
Honest Paws — Pet-Centered
Holistapet — Creative Selection
Premium Jane — Interesting Options
Joy Organics — Best Organic
CBDistillery — Best Chews
Medterra — Best Formulated Dog Chews
How We Came Up with Our List of CBD Dog Treats
Before we could look at brands, we first needed to come up with a list of criteria that we wanted to hold the brands up against. Next, as we were deciding which brands to include in our top seven, we first started to collect vital information on each of the brands. Once we felt our data on each brand was complete, we then measured them up against our strict criteria, and as each brand was scratched off of our list, we were finally left with the top seven brands that we present to you in our guide. A few of the things that we looked for in both the brand as well as the CBD dog treat were brand reputation, verified customer reviews, hemp sources, the extraction process, among others.
We also zeroed in on:
The quality of the CBD dog treat or chew
If the treat was THC-free, as this specific cannabinoid can be dangerous to dogs
How successful the treats were at decreasing pain levels in dogs and alleviating stress and anxiety, based on dog owner reviews
If the treats were routinely tested by an independent lab
If customers can easily view those lab reports
If the brand put forth helpful and truthful information on CBD for dogs
What You Should Look for When Buying CBD for Dogs
If you've been considering CBD dog treats for your pup and have been wanting to do some research of your own, then we strongly urge you to look into what CBD is, how it can help your dog, and what types of CBD pet products there are on the market. While these topics are a great place to start, you might also want to do some digging into:
How long the brands you're looking at have been in business
The ingredients of the CBD dog treats or chews
Any and all publications from CBD journalists
Third-party lab reports seeing if the brand tested for heavy metals, pesticides, herbicides, solvents, and other items
The quality of the CBD dog treat
Prices of products
The amount of CBD in the dog treat
If instructions printed on the packaging is clear and easy to understand
The overall effectiveness and purity of the dog treats
If, however, you're starting to feel overwhelmed and aren't sure which brands will be some of the best to start with, then feel free to begin by closely examining the top seven brands that we've chosen below. After you're done buying CBD dog treats or chews for your favorite pup, you might want to also consider getting some CBD oil for yourself. The great news is that some of our top CBD dog treat and chew brands are also the best CBD oil brands to purchase top-quality products for yourself. And when it comes to CBD, buying CBD oil online has more benefits than buying it from the local brick-and-mortar store near you. When you research online CBD oil brands, you are able to take as much time as you need to closely examine every aspect of both the brand and the product. You might not be able to do this when visiting a physical CBD retailer.
7 Best CBD Dog Treat Brands in 2022
Courtesy of Smarter CBD
Thanks to the many years of experience that the team of FAB CBD has in the health and wellness industries, they know just how to keep your four-legged friend calm, relaxed, and at ease. The brand has a stellar reputation for crafting some of the best top-shelf CBD products for people and dogs. In fact, since 2017, FAB CBD has been pushing the envelope to bring customers innovative products like its Calm & Cool Crunchy CBD Dog Treats, full-spectrum CBD oil, CBD+CBG Oil, Topical CBD Cream, Full Spectrum Body Salve, "Anytime" CBD Gummies, "Nighttime" CBD PM Chews, and CBD-free Vegan Green Superfoods.
In order for FAB CBD to craft the most potent products, the brand obtains all of its premium extracts through the industry preferred CO2 extraction process. All of the brand's organic hemp is carefully grown and cultivated in Colorado. For its Calm & Cool Crunchy CBD Dog Treats, the team at FAB CBD knew they had to come up with a pup-pleasing and distinctive formulation. Therefore, these treats come in peanut butter and apple flavor that dogs love. They are also free of soy, dairy, corn, or wheat. Calm & Cool Crunchy CBD Dog Treats are made from the highest quality hemp, are jam-packed with beneficial cannabinoids, terpenes, and phytonutrients, and do not contain any of the THC that can be dangerous to dogs. Dogs are sure to love these soft and crunchy CBD dog treats.
Calm & Cool Crunchy CBD Dog Treats can be used as snacks, training tools, and as a natural supplement to help soothe and relax your dog when he or she is feeling stressed out or anxious. Some of the clean ingredients in these treats include:
Chamomile
Passionflower
Organic hemp extract oil
Coconut oil
Apples
Peanut Butter
Highlights
Potent and pure products
Organic hemp that's grown and cultivated in Colorado
Third-party lab testing
THC-free dog treats in a delicious flavor that dogs drool for
Pros
Clearly written product instructions
CBD dog treats that are wheat-free, oat-based, and made from broad-spectrum hemp extract
Fast and secure shipping
Smart and caring customer service department
Free shipping on orders over $89
Cons
No international shipping
Does not offer auto-ship or subscriptions
Honest Paws seeks to empower pet owners through top-quality CBD products that are formulated to ensure the happiness and health of pets. All of the brand's products are sourced, created, and shipped out according to human-grade standards and rules. Therefore, when the brand creates its line of CBD pet products, it follows the same guidelines that are followed for human-grade CBD product creation. Because the brand knows that pet owners deeply care about their four-legged friends, it publishes a detailed product ingredients page. All of Honest Paws' products are vegan, dairy-free, soy-free, corn-free, gluten-free, and xylitol-free. Third-party lab reports confirm that the brand's products are free from heavy metals, microbials, and contaminants. All of Honest Paws' hemp is American-grown and non-GMO.
Honest Paws crafts many different types of CBD dog products. But when it comes to treats and chews, the brand makes:
Calm Hemp Bites that are peanut butter flavor, contain organic full-spectrum hemp extract, organic peanut butter, organic barley, and organic oats.
Calm Hemp Soft Chews that are poultry flavored, and that contain organic full-spectrum hemp, tryptophan, and L-Theanine.
Relief Hemp Bites to help with aches and pains that are turmeric flavored, and are made from organic full-spectrum hemp, organic barley, organic oats, organic peanut butter, and organic turmeric.
Mobility Hemp Soft Chews that are poultry flavored, help relieve occasional joint stiffness and are made using organic full-spectrum hemp extracts, chondroitin sulfate, glucosamine HCL, hyaluronic acid, and Boswellia serrata powder.
Well Hemp Bites that are Creamy Coconut Flavored, help support immune system functioning and are made from organic full-spectrum hemp extract, organic barley, organic oats, and organic peanut butter.
Highlights
Pet-centered CBD brand
Founded by a brother and sister who made it their mission to find an alternative, natural treatment for their 13-year old epileptic Maltipoo, Baby Rose
Hemp sourced from USDA-approved organic Colorado farms
Pros
Extensive ingredients page
Free shipping
CBD for larger animals like horses
Subscription service and referral discount offered
Cons
No Soft Chews offered for the brand's Relief and Well products, and no Hemp Bites offered for the brand's Mobility product
Cheef Botanicals has a pet line of CBD products under the name of HolistaPet. The main brand, Cheef Botanicals, was started as a way to bring top-quality, plant-based CBD products into a California market that was plagued with ineffective products and subpar brands. The brand's products are vegan, organic, non-GMO, dairy-free, gluten-free, and cruelty-free, and do not contain pesticides, herbicides, heavy metals, or other dangerous chemicals.
Under the HolistaPet Heading, Cheef Botanicals creates CBD Dog Treats + Heart & Immune Care that comes in Blueberry & Sweet Potato flavor, CBD Dog Treats + Joint & Mobility Care in Pumpkin Spice & Cinnamon flavor, and CBD Dog Treats + Stress & Anxiety Relief in Green Apple & Peanut Butter flavor. All treats contain 150mg, 300mg, or 600mg of CBD per bag, and are gluten-free, dairy-free, non-GMO, and 100% natural.
Highlights
Organic hemp from Colorado
Effective and pure CBD products
Third-party lab testing
Affordable prices
Shipping throughout the US
Vegan and cruelty-free products
Pros
Products are effective and pure
Nice line of pet products
Product subscriptions available
Product bundles offered
100% money-back guarantee
Cons
Does not offer worldwide shipping
Premium Jane, headquartered out of Scottsdale, AZ, spreads the word about CBD's healing benefits through the creation of its top-shelf products. All of the brand's CBD products are made from regulated Kentucky hemp. Premium Jane obtains its extracts using the industry preferred CO2 extraction process. Then, after the products are created, they are all tested by a third-party lab. Throughout the years, the brand has pushed the envelope to make unique CBD products that enable new and existing customers to enjoy the many benefits that the hemp plant has to offer.
Premium Jane creates treats that are THC-free, gluten-free, soy-free, and that are made from USA-grown hemp. The Sirloin & Sweet Potato 100mg Hemp Treats are specially formulated for large dogs that weigh over 50lbs. The brand also makes Apple & Cinnamon Oats 100mg Hemp Dog Treats for large dogs over 50lbs. For smaller dogs, Premium Jane creates Apple & Cinnamon Oats 50mg Hemp Dog Treats, and Sirloin & Sweet Potato 50mg Hemp Dog Treats. Lastly, the brand offers 150mg CBD Dog Treats that are a soft chew geared towards joint care. These chews also contain glucosamine, MSM, and chondroitin sulfate to help with joint pain.
Highlights
Thoughtful line of dog treats
Third-party lab tests
Uses CO2 extraction process
Regulated hemp from Kentucky
Affordable prices
Shipping available worldwide
Pros
Free shipping to anywhere in the world
Dog treats specifically made for small and large dogs
Cons
Only one of the brand's dog treat options is geared towards targeting a specific issue in dogs
Joy Organics is a brand that centers itself on the health experiences of its founder, Joy Smith. To that end, the brand produces clean and effective CBD products while practicing kindness and compassion towards its customers. Before starting Joy Organics, Smith struggled for most of her life with painful health issues. And even though she found relief through various CBD products, she was not able to achieve the results she was ultimately looking for. It was out of that search that she founded Joy Organics so that Smith could not only help herself but also help others who were dealing with various health problems.
Joy Organics makes a line of CBD dog treats that are crafted from hemp oil that's rich in cannabinoids, terpenes, and beneficial phytonutrients. Joy Organics CBD Dog Treats are beef flavored and are formulated with CBD powder and other organic, top-notch ingredients. Every jar contains 60mg of CBD, which is 2mg of CBD per soft chew.
Highlights
Organic products
USDA certified hemp
Third-party lab testing
Gluten-free, cruelty-free products
Good variety of pet product options
Subscription service available
Pros
Focused on transparency
A strong line of popular CBD dog treats
Organic CBD products
Cons
Products are a bit on the expensive side
Does not offer international shipping
A group of Colorado friends brought CBDistillery to life in 2016 so that they could bring high-quality CBD products onto the competitive CBD market. The friends had concerns about the number of subpar brands that were inundating the market with unclean, potentially harmful products that were packed with pesticides, solvents, herbicides, heavy metals, and other contaminants. Along with creating potent and pure products, the brand also seeks to educate its customers so that they can find the best products for their unique wellness needs.
CBDistillery makes an interesting line of dog treats that contain high-quality CBD extract, are non-GMO, and are made from industrial hemp. The brand makes Mobility Bites soft chews that are specially formulated for hip and joint pain, made from broad-spectrum CBD, are Roast Beef flavor and contain 225mg of CBD per bag. CBDistillery also makes Cognition Bites that are also Roast Beef flavor, contain 225mg of CBD, and that helps support brain function and calmness.
Highlights
Organic hemp source from Colorado
Highly transparent
Education-centered
Third-party lab testing
Pros
Pure and potent products
Lab reports are easily accessible
Interesting dog treat options
Cons
Uses ethanol extraction process instead of CO2 extraction
Medterra makes sustainable products that are available to anyone who needs them. The brand offers assistance programs to the disabled, veterans, and military personnel. All of Medterra's pet products are made from hemp that's grown and cultivated in Kentucky. In addition to its line of pet products, the brand also offers CBD gummies, capsules, topicals, and tinctures for humans.
Medterrra makes a line of CBD pet treats that include:
Hemp Pet Joint Support treats in Peanut Butter Flavor made with 300mg of CBD per bag
Hemp Pet Calming Soft Chews in Bacon flavor made with 300mg of CBD per bag
The Hemp Pet Joint Support is made with hemp, glucosamine, MSM, and chondroitin to help with joint health, while the Hemp Calming Soft Chews are made with hemp, Valerian Root, and L-Tryptophan to help relax dogs and keep them calm and happy. The brand's dog treats are THC-free, non-GMO, regularly lab tested for impurities, made in the USA, and do not contain any dangerous pesticides, herbicides, or other chemicals.
Highlights
Clean products
Organic Kentucky hemp
Assistance programs for the disabled, veterans, and current military personnel
Pros
International shipping
Product bundles
Offers rewards and assistance programs
Popular pet products that are pure and potent
Cons
Some of the Certificates of Analysis (COA) on products are outdated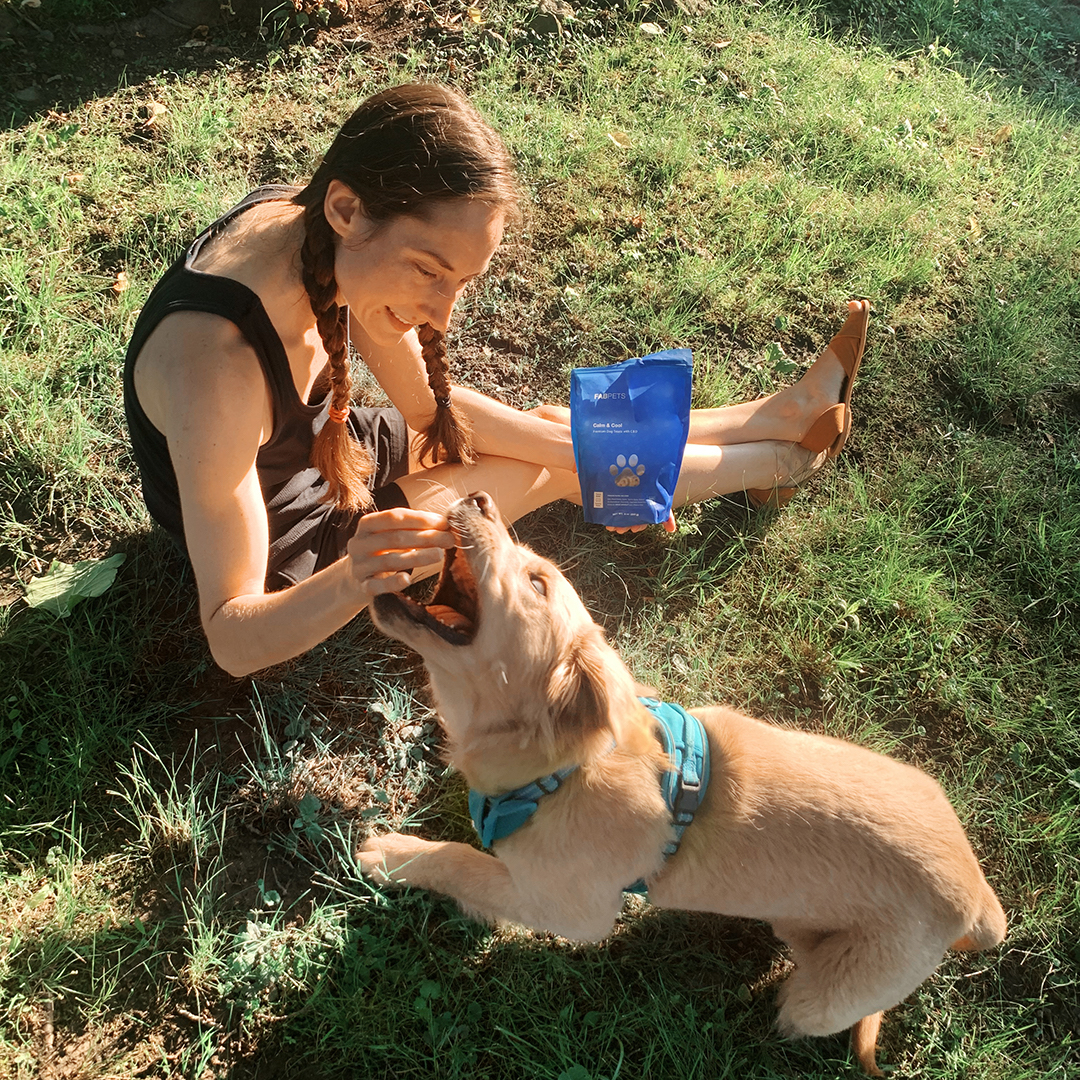 Courtesy of Smarter CBD
Research on CBD for Pets: How CBD can Benefit Dogs
The studies on CBD for dogs are not that many, however, the ones that have been conducted point to the fact that CBD can be largely beneficial for dogs. Both dogs and humans have an endocannabinoid system, or ECS, that the cannabinoids in CBD products positively interact with. When CBD enters the body, it works with the ECS to help bring the body back into a state of balance. Some of the issues in dogs that CBD can help with are:
Chronic pain
Allergies
Hip and Joint pain/inflammation
Lowered immune systems
Chronic anxiety
Situational anxiety
Issues stemming from advanced age
Skin conditions (topical CBD products work best)
Seizures
Gastrointestinal issues
CBD Dog Treats vs CBD Dog Chews: Which one is The Best
There are many different options available when it comes to CBD dog treats. Two very popular ones are dog treats and dog chews. Sometimes, however, when faced with a lot of CBD product options, it can feel overwhelming or confusing as to which product will work best for your pup. In truth, there is not that much of a difference between CBD dog treats and CBD dog chews. The main difference, however, comes in the texture of the treat.
Sometimes, the choice between treats and chews purely comes down to preference. Some dogs like the mouthfeel of a crunchy treat, while others love the soft texture of a chew. If, however, advanced age or dental problems are issues for your dog, then CBD chews would be the best way to go. Since chews are softer, they are easy for your dog to bite into. Chews are also softer, smoother, and a lot easier on the teeth and gums. But, if there aren't any foreseeable issues with your pup, then you should be able to try both options out to see which he or she likes the best.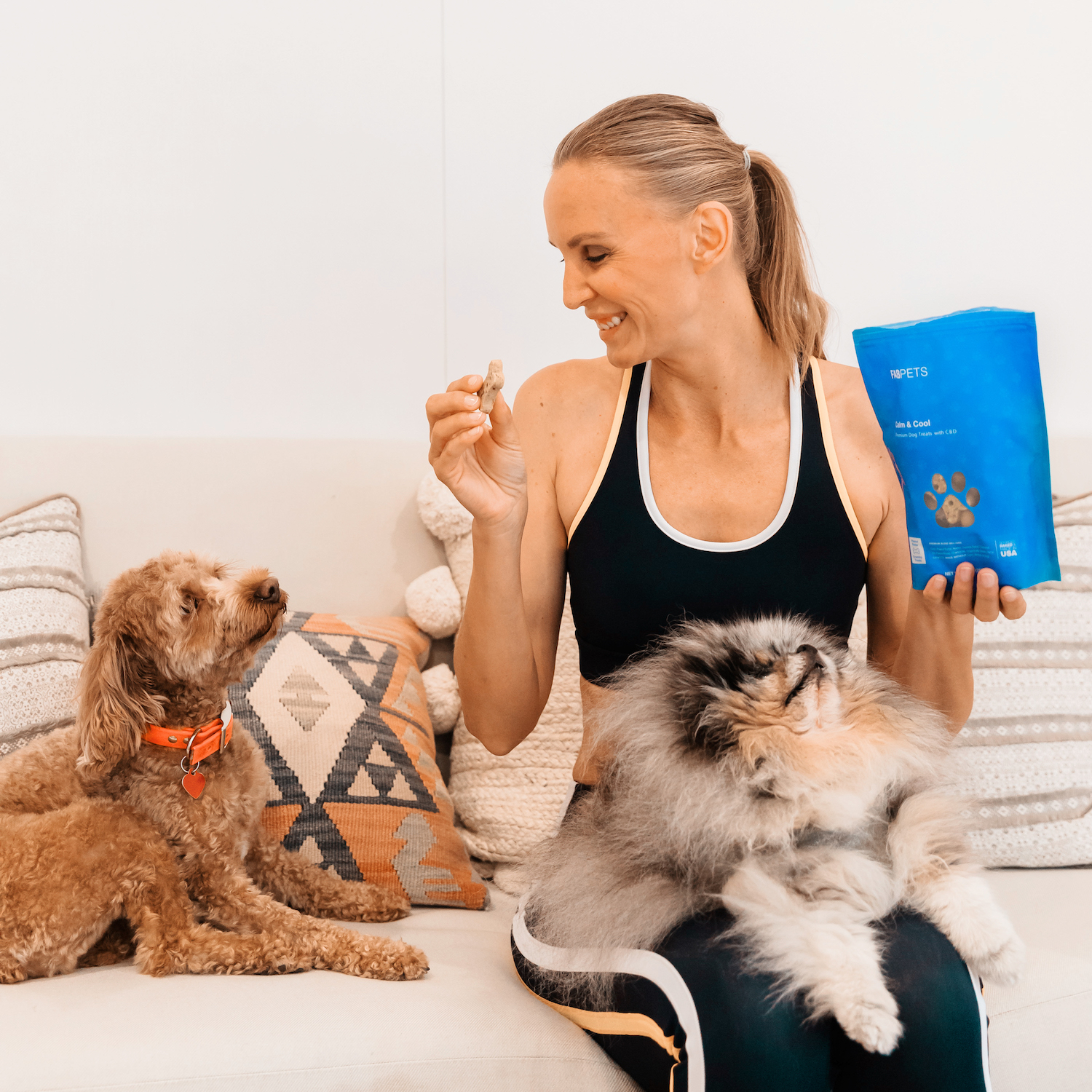 Courtesy of Smarter CBD
Is it Safe to Give CBD Treats to Your Dog?
Thanks to the successes that they've had in their own lives through using CBD, many owners are now looking at this natural supplement as a means to help their beloved four-legged friends achieve comfort, calm, relaxation, and happiness from anxiety, immune issues, and hip and joint inflammation. Recently, a research study proved that CBD was an effective treatment in the reduction of osteoarthritis pain in dogs. Researchers performed the study at Baylor College of Medicine in Houston, TX. The study took about a month to run and included 20 big dogs that were diagnosed with osteoarthritis. Two weeks post-study, after CBD was stopped being administered to the dogs, the pups continued to improve. In light of this, researchers understood that CBD could cause improvements in health by addressing existing inflammatory issues even when it was not taken every day. None of the dogs experienced negative side effects from the CBD they were given during the study.
THC, or tetrahydrocannabinol, the other main cannabinoid in the hemp and marijuana plants aside from CBD, is harmful to dogs. When humans ingest large amounts of THC, it causes a psychedelic "high" feeling. When dogs take in large amounts of THC, however, it can be deadly. Thanks to the 2018 Farm Bill, all hemp-based CBD products are legal in the United States, as long as they contain 0.3% or less THC. Since the hemp plant is bred to have low levels of THC, there is no way that people can get high from CBD products made from hemp. As we stated before, this is not the case for dogs. Therefore, all CBD dog treats and chews are made from either broad-spectrum or CBD isolate extracts so that dogs will still be able to receive CBD's many benefits.
When dogs are given large amounts of THC, within 30-60 minutes owners can expect to see signs of THC poisoning that include:
Vomiting
Shaking
Agitation
Lethargy
Tripping or unsteady walking
Issues with urine accidents
How Many CBD Treats or Chews Should I Give My Dog?
Your dogs' size will dictate how many CBD treats or chews he or she should be given. The number of chews or treats will also vary from brand to brand. When it comes to the number of CBD treats or chews you should be giving your dog, it's best to follow the directions on the package. As an example, FAB CBD prints its dosing chart right on the packaging of its Calm & Cool Crunchy CBD Dog Treats. The dosing for the brand's dog treats goes as follows:
5mg of CBD or ½ a treat for dogs under 10lbs
3mg of CBD or 1 treat for dogs between 10-25lbs
5mg of CBD or 1.5 treats for dogs between 25-50lbs
6mg of CBD or 2 treats for dogs over 50lbs
If, after reading the packaging, you still have questions or concerns, then you shouldn't hesitate to call your dog's veterinarian to discuss things at greater lengths.
What are the Potential Side Effects
Both humans and dogs can experience side effects from CBD. However, it's important to know that these side effects are also very minor and tend to end when the CBD is stopped being taken. Some side effects from CBD that dogs can experience are:
Vomiting
Diarrhea
Drowsiness
Lowered blood pressure
Dry mouth
Elevated liver enzymes
If your dog experiences any of these side effects and they don't reside after you stop giving your pup CBD, then you may need to place a call with your dog's veterinarian. Your dog's veterinarian can then advise you on the best path going forward.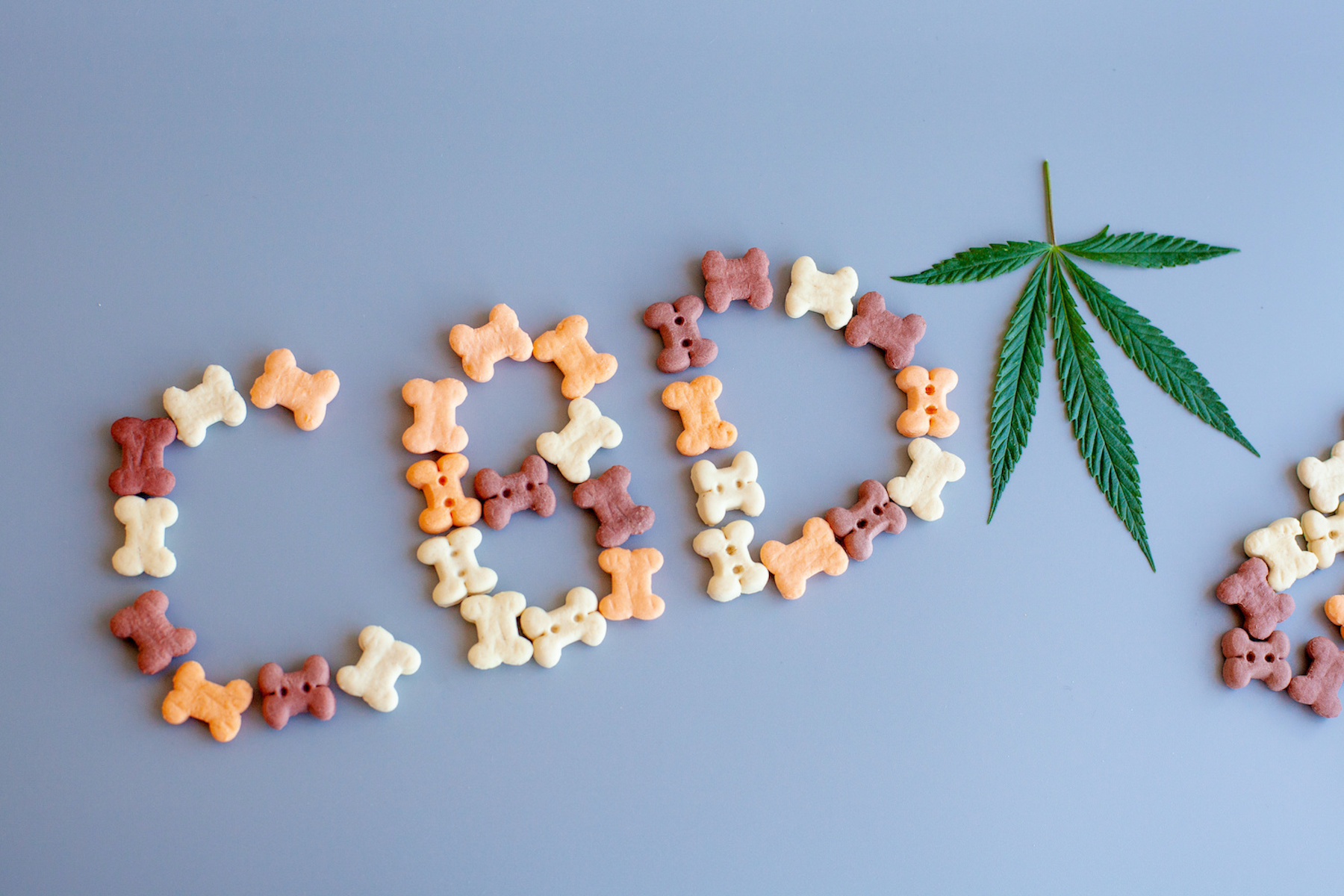 Courtesy of Smarter CBD
Are Veterinarians Able to Prescribe CBD Treats or Chews?
The American Veterinary Medical Association states that under federal and state laws, veterinarians cannot administer, dispense, prescribe, or recommend CBD products for animals. Even though these laws tie the hands of veterinarians, owners can still bring up the topic of CBD with them. Ultimately, the choice will be yours as to whether or not you will add CBD dog treats or chews into your dog's supplement routine. If you do decide to explore CBD dog treats, then you should take some time to do your own research so that you can feel comfortable with your decision moving forward.
If you decide to give your dogs CBD dog treats or chews, you should still let your veterinarian know, as it's always important to keep them informed and updated. This way, your dog's veterinarian can advise you if there are any potential negative reactions that may occur between the prescription medication your dog is on and the CBD. Additionally, your dog's veterinarian will most likely have the most up-to-date information on CBD pet products and brands.
Closing Thoughts on CBD for Dogs
These days, there are a wealth of options when it comes to CBD products for your dog. So, if you're looking to support overall health and wellness, boost immune system function, alleviate anxiety and stress, or decrease hip and joint inflammation, then chances are you can do so with an expertly crafted CBD dog treat or chew that is made in a variety of different strengths and pup-pleasing flavors. However, because there are a lot of brands in today's CBD market, it's important that you take some time to find the best brand that crafts the most potent and pure treat or chew for your dog. If you need a starting point, then our guide is the best place to begin your search.
Our top seven brands have the cleanest, most potent CBD dog treats and chews, and are also caring and transparent when it comes to the wellness needs of their human customers and their favorite pups. While FAB CBD was the clear choice for our number one brand, Joy Organics, Premium Jane, Holistapet, Honest Paws, and the rest also held up to our tough criteria with their high-quality CBD dog treat and CBD chew products. Moreover, every single one of our brands received positive reviews from verified customers as well as industry experts.
While there are some side effects linked to CBD use in dogs, they are very mild and subside once either the dose is lowered or the CBD use is ended altogether. As studies have proven, the benefits of CBD for dogs surpass the potential side effects. Furthermore, even though veterinarians are prohibited from prescribing or suggesting CBD for dogs, you should still talk about CBD use with them. And if you do decide to give your dog CBD dog treats or chews, you should always keep your dog's veterinarian updated and informed. Regardless of which brand you decide to go with, you should still take the time to fully understand CBD, its benefits, how CBD works in animals, and how it can be good for your dog's unique health and wellness needs.