As consumers become more aware of the many wellness options available for their pets, many are opting for a holistic approach by using cannabidiol (CBD). This increasingly popular natural remedy is often used to address anxiety, arthritis, allergies, digestive issues and skin irritation.
"There are consumers that have heard of or even tried CBD for themselves but still don't fully understand what it can do and how it works for their pets," said Tracy Werner, national sales manager for Ziggy Marley Apawthecary by One Farm, a Niwot, Colo.-based brand of CBD products for pets. "I feel that stress and anxiety relief is still the top [reason for use as well as] pain relief, reducing inflammation, and for cats particularly, stimulating appetite."
From CBD drops to balms, shampoos and chews, the CBD for pets category continues to expand, and it is gaining attention from many types of pet owners.
"All age groups are open to learning about and trying CBD products for their pets," Werner said. "Everyone loves their pets and wants to make their lives better, no matter the age bracket."
However, some industry insiders reported that younger generations are quicker to embrace CBD.
"Many people don't know that CBD is just as helpful for humans as it is for their pets," said Chance Smith, founder and CEO of Natures Pet Relief, a Georgetown, Texas-based manufacturer of hemp-infused pet products. "I find that '80s babies and up are [keener] to try CBD. The younger generations are more educated in the benefits of CBD and are also more open to giving it to their pets [for] anxiety, arthritis and allergies."
The various formats available in CBD for pets continues to grow, and efficacy, safety and palatability are top priorities for manufacturers.
"Designing products for pets requires more than adding additional flavoring to a pet product," said Cristina Weekes, president of Grand Junction, Colo.-based Kadenwood Pet, the manufacturer of Purity Preferred CBD pet products. "We take into account the metabolism of canines and felines, [which] is important for delivering the highest efficacy and safety."
Manufacturers agree that consumer and staff education is critical for selling CBD products. Consumers may be hesitant to try CBD products because of confusion around choosing the correct dose for animals, so offering products that include dosage suggestions and guidelines is important.
"Consumers require guidance for serving size, administration forms, frequency [and more]," Weekes said. "Having consumer information in accessible formats is critical to supporting each consumer in a preferred delivery method."
Marketing materials, shareable social media content, and timely consumer calls or email responses are critical to helping consumers understand what levels and format of CBD to give their pet, Weekes explained.
Carrying a smaller selection of brands might actually help shoppers who are considering purchasing CBD.
"In the past, when stores would carry five or six CBD brands, some consumers would experience decision paralysis, unsure of the best or most trustworthy option for their pet," said Chelsea Gennings, co-founder and senior vice president of Pet Releaf, a Littleton, Colo.-based CBD manufacturer. "That's why today, many stores prefer to carry a curated selection of one or two CBD brands. Time and time again, we've seen sales of the overall CBD category increase when stores limit their options."
Ziggy Marley and Romeo

Ziggy Marley Apawthecary by One Farm


Ziggy Marley Apawthecary by One Farm in Niwot, Colo.
Musician Ziggy Marley has partnered with One Farm for the Ziggy Marley Apawthecary pet product line. The line is inspired by Romeo, Marley's dog.
Ziggy Marley Apawthecary believes in using the best that nature has to offer, and staying as close as possible to its natural form, company officials said. The brand keeps both the health and safety of the environment and pets in mind by procuring synergistic ingredients from like-minded growers and producers who focus on quality and transparency. Both the hemp farm and manufacturing facility of Ziggy Marley Apawthecary are double United States Department of Agriculture (USDA) certified organic, officials added.
Ziggy Marley Apawthecary offers all full-spectrum, supercritical CO2 extracted, USDA organic CBD oils in four strengths. Supercritical CO2 is a form of extraction, and it's currently the only solvent-free method of extraction, according to the company. The CBD products available include a water-soluble CBD, three strengths of true transdermal CBD, peanut butter-based chews to promote muscle and joint agility, and a bone-broth-based superfood topper for the prevention and relief of muscle and joint pain, stiffness and inflammation.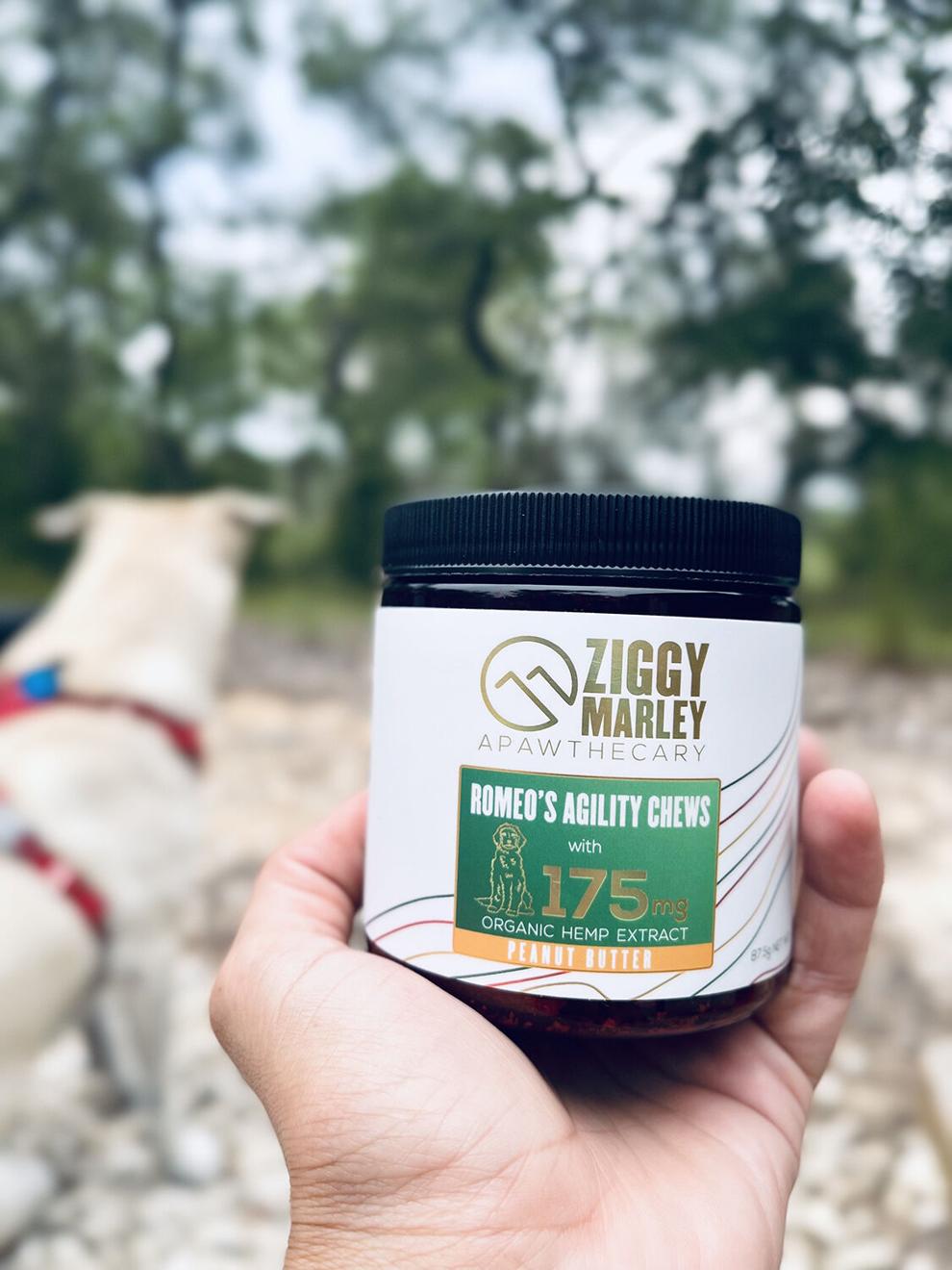 Romeo's Agility Chews and Romeo's Agility Superfood Topper are the newest additions to the brand's supplement line. They are the first of many supplements currently under development to address specific health goals, with or without using CBD as a synergistic ingredient in a whole food wellness product, according to the company.
The primary functional ingredients in Romeo's Agility Chews are organic turmeric, organic full-spectrum water-soluble CBD and the fruiting bodies of organic functional mushrooms—turkey tail, cordyceps and shiitake—all in a tasty organic peanut butter chew.
The topper has organic beef bone broth, organic turmeric and organic tart cherry as well as the fruiting bodies of organic functional mushrooms—cordyceps, reishi and turkey tail. This formula comes with or without organic full-spectrum water-soluble CBD.
Kradle in Minneapolis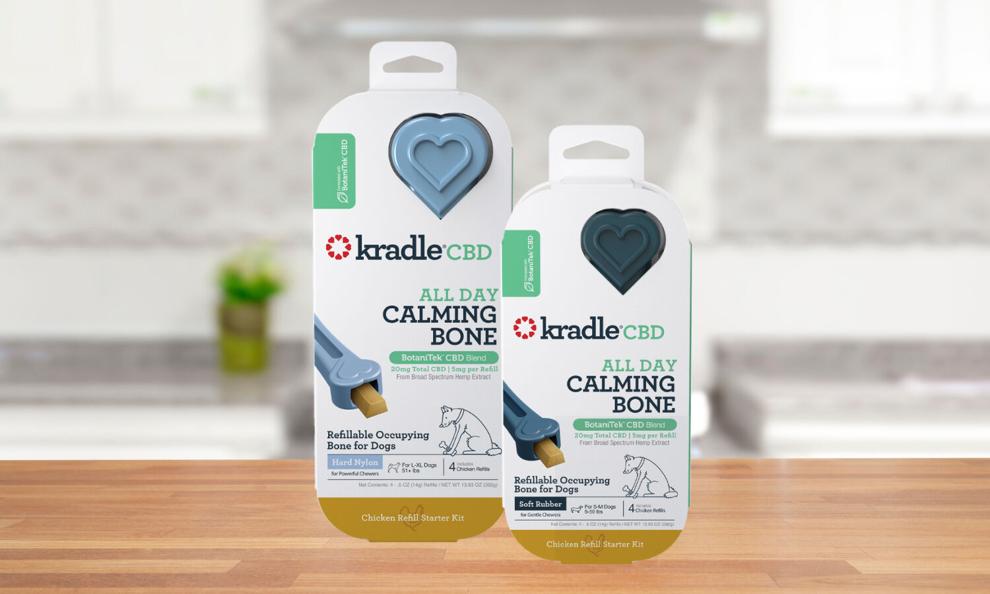 Kradle's new All-Day Calming Bone is an all-in-one occupying toy designed to keep dogs happy, calm and occupied.

Jane Fraley

Kradle stands out in the ever-expanding CBD category because of its consumer-friendly form, according to CEO Bill Partyka. CBD oils and tinctures are the most common forms, but they can be challenging to measure and administer, especially when a dog is stressed, Partyka said, adding that Kradle provides solutions for pet owners that are easy to use and fit seamlessly into their dog's routine.
Kradle has taken form factors that dogs are already familiar with and love, such as hard chews and occupying toys, and added calming capabilities to them. The brand recently launched the All-Day Calming Bone and Sleepy CleanZzz to help pet owners solve two increasingly common issues: separation stress and restless sleep.
The need for an effective solution for anxiousness stemming from separation has become especially pertinent as pet owners head back to the office in the wake of the COVID-19 pandemic, Partyka noted. The All-Day Calming Bone is an all-in-one occupying toy designed to keep dogs happy, calm and occupied when their owners are away for the day, or even when they are at home. The product comes with chicken-flavored inserts that are placed in the middle of the toy to engage the dog. These inserts contain a combination of CBD and Kradle's proprietary BotaniTek formulation, which is a blend of additional premium human-grade ingredients to calm dogs from the inside out, Partyka said.
"Amidst all the uncertainty in the past two years, humans are not the only ones having trouble relaxing and falling asleep at night—dogs are too," Partyka said. "The COVID-19 pandemic has upended their routines just as much as it has ours. We have seen a significant amount of consumer engagement on our website in the middle of the night, including orders and questions about how to help dogs fall asleep faster and stay asleep."
Kradle's Sleepy CleanZzz chews are designed to help dogs get back into a bedtime routine that keeps them comfortable and calm all night long. The chews feature a fresh mint flavor and chewy texture to freshen a dog's breath and clean their teeth as they drift into a good night's sleep, night after night, Partyka said. They contain CBD and the BotaniTek formulation as well as cannabinol (CBN).
Kadenwood (Purity Preferred Pet brand) in Grand Junction, Colo.
Purity Preferred Pet starts with its sister company, Kadenwood Biosciences, which utilizes proprietary genetics grown on its farms. Kadenwood is fully vertical from its EcoGen Biosciences division, which is responsible for seed, agriculture, extraction, processing and quality assurance.
The products manufactured for Purity Preferred Pet are available in various CBD levels, allowing the consumer to choose a potency for their pet's size and symptoms. In addition, the brand's hemp goes through an extraction process that separates CBD oil from the rest of the plant material, removing THC and unnecessary fats and waxes. The formulations also include additional ingredients for support, including moringa oil, krill oil and an essential oil called copaiba.
Purity Preferred Pet's new Purity Pro soft chews are designed to be easy to administer and take on the go.

Purity Preferred Pet

Purity Preferred Pet offers soft chews, topical balms and tinctures. Soft chews are new to the brand's product line.
"When working on the product development, we endeavored to develop a product form that was easy to administer [because] pet parents are already in the habit of delivering essential products such as treats in a soft chew form," said Cristina Weekes, president of Kadenwood Pet. "Soft chews are portable for travel to the vet, on vacation, or for outdoor exercise at the beach or hiking."
The primary ingredients in Purity Pro soft chews include CBD, glucosamine, chondroitin, methylsulfonylmethane (MSM), green-lipped mussel, L-tryptophan, valerian root, turmeric, moringa oil, omega-3s, omega-6s and krill oil.
When developing products for pets, Purity Preferred considers palatability, the metabolism of cats and dogs, and high efficacy and safety. Weekes said medical advisors are integral to developing Kadenwood's new Purity Pro products.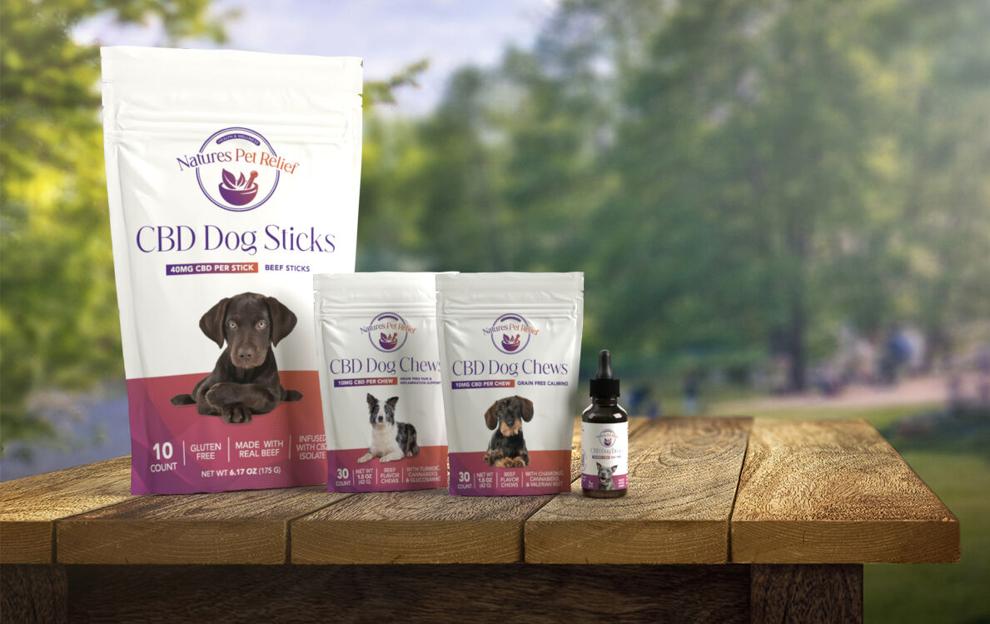 Natures Pet Relief offers hemp-infused products for pets in a variety of forms.

Natures Pet Relief

Natures Pet Relief in Georgetown, Texas
Natures Pet Relief is a family-owned company that specializes in all-natural hemp-infused products for pets. This brand is dedicated to providing the best in natural, safe and effective cannabinoids for pets with products including oils, shampoos and chew supplements, company officials said.
"I started the company when I found out my neighbor was giving Xanax to her Labradoodle," said Chance Smith, founder and CEO of Natures Pet Relief. "Shortly after, I found out several other of my friends were giving their dogs prescribed medications for allergies and pain relief that had negative side effects on their dogs. I wanted to help, so I started doing research on natural remedies and discovered the benefits of CBD for dogs."
Natures Pet Relief uses the power of natural superfoods such as hemp seeds and turmeric to promote health and wellness, and help lower the risk of certain illnesses and encourage a healthy appetite, according to company officials.
Nature's Pet Relief recently introduced CBD Dog Sticks, which are made with real beef, zero fillers and no grains or GMO products. Each stick is infused with 40 milligrams of CBD isolate extract, and each stick has notches, so the customer can easily tear off a 4.5-milligram piece. The sticks are meant for dogs of all sizes. The sticks include Bacillus coagulans probiotics, making them a good option for pets with sensitive stomachs, according to the company.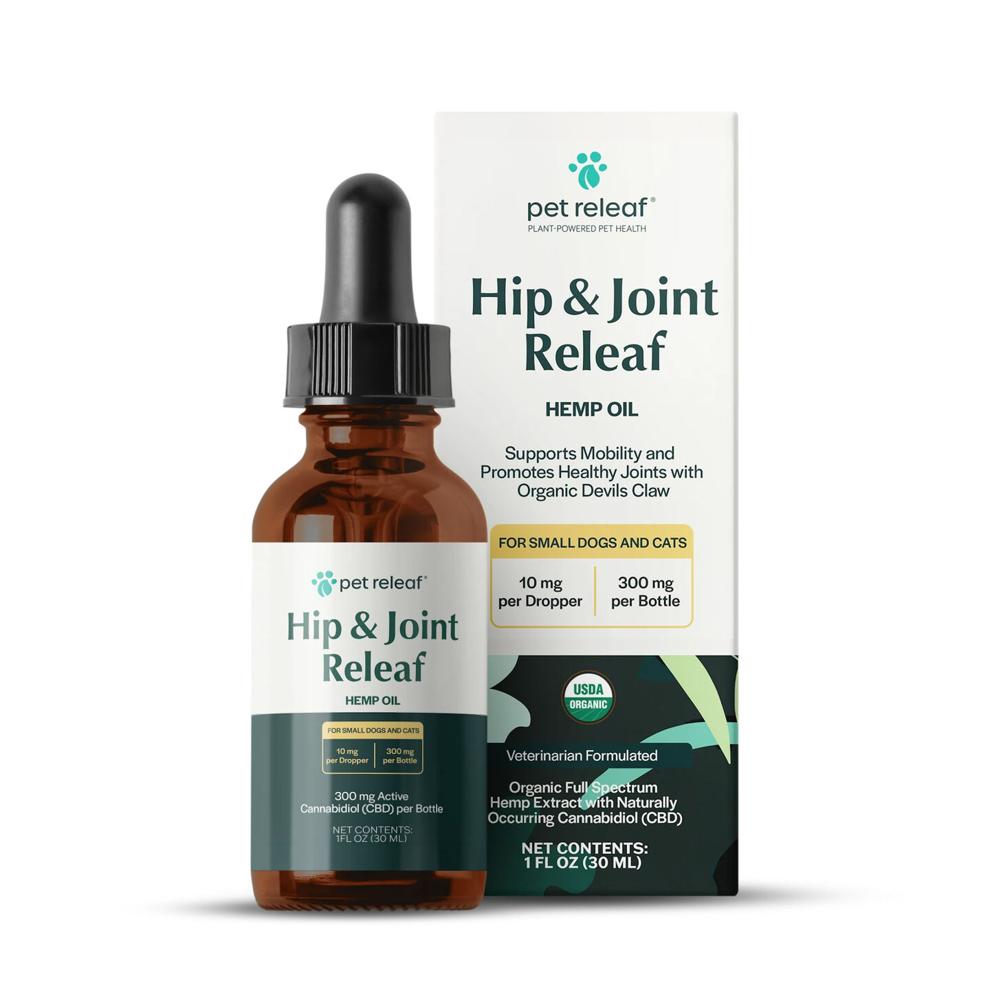 Pet Releaf recently introduced two functional hemp oils for dogs and cats, Stress Releaf and Hip & Joint Releaf.

Pet Releaf

Pet Releaf in Littleton, Colo.
Pet Releaf was founded with the sole mission of creating effective, natural alternatives to pet health and wellness supplements. The brand's "less is more" approach to both diet and health treatments has allowed Pet Releaf to create products made with honesty and integrity, according to the company.
The company recently rebranded with a new look and some updates to its product line.
"As part of our rebrand, our new hemp oil boxes were formerly cardboard and are now entirely made from tree-free, biodegradable sugarcane," said Chelsea Gennings, co-founder and senior vice president of Pet Releaf. "We've long been a leader when it comes to sustainability by utilizing 100 percent wind-powered baking facilities, partnering exclusively with regenerative hemp farms to sequester carbon dioxide from the atmosphere, and using geothermal-powered greenhouses to decrease their carbon footprint further."
The company prides itself on providing CBD education and transparency by sharing the entire process from plant to pet. The Pet Releaf line is veterinarian formulated, and all of the products are certified by the National Animal Supplement Council (NASC), ensuring everything Pet Releaf does is traceable and safe, Gennings said.
Pet Releaf offers CBD in multiple forms, including hemp oils for multiple ailments, edible chews and topical balms. These products help pets stay calm, especially when dealing with situational stress, such as owners leaving for work and travel, upset stomachs and thunderstorms.
New products from Pet Releaf include two functional hemp oils for dogs and cats, Stress Releaf and Hip & Joint Releaf. The Stress Releaf oil, formulated to help promote calming and ease situational stress, is a USDA organic product that includes ingredients such as organic ashwagandha, organic hemp oil and CBD. Hip & Joint Releaf includes ingredients such as devil's claw and organic hemp oil to promote healthy joints and smooth movement.
The company's Edibites also got a few improvements. The Stress Releaf and Hip & Joint Releaf Edibites now come in a family size for multi-dog households. The company increased the CBD potency per chew and extended the shelf life to two years.
Skin & Paw Releaf (formerly called Canna Care), a topical, has been reformulated in a more powerful plant-based formula and designed with an easy-to-apply package. It is now available for both cats and dogs.